Juno is the ocean rescue centre's jet ski that was introduced in [9|Series 9].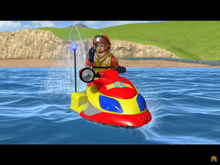 Description
[Sam (character)| Sam] is the only one who has been seen riding it so far. There is a second seat which can be used to carry the rescued people. Underneath the seats is a compartment for the equipment.
Juno has a siren, a headlamp and a sonar to look for lost people and is housed in the [Rescue Centre|Ocean Rescue Centre] alongside [[1]] & [[2]].
Appearances
Trivia
In Series 10, the colour of paint on Juno's spotlight changed from red to black.